Mark Boyle lives off the grid, in a caravan, outside the city. He uses his bike-ride to town as his gym membership and one day wiped his bottom with a printed newspaper article about himself
. He lives on NO cash and he is doing alright
. Now you may say that is a bit extreme, however, check out what he learned from it:
The caravan
What have I learned? That friendship, not money is real security. That most western poverty is of the spiritual kind. That independence is really interdependence. And that if you don't own a plasma screen TV, people think you're an extremist.
Why did he do it? Why go "no-cash"?
My own original reasons for moving beyond money were simple: I believed - and still do four years later - that until we reconnect with what we consume, there will always be sweatshops, always be clear cuts, always be oil spills.

[More here]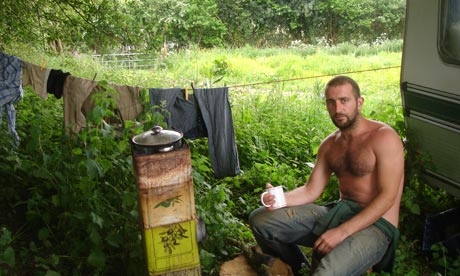 Easier for a single guy with no dependents would you say?
Imagine transitioning into living on no-cash? I suppose for a single person with no responsibilities other than himself it
might
be a bit easier. The article leaves me with quite a few questions, like what do you do if you break an arm on the way to town on the bike? Then again, there is already an organized
transitioning movement
.
What do you think?
I'll tell you what I think. I think money per say is NOT evil, but rather how it is used. I think money can help communities thrive too when well directed. And finally I think that for a guy only responsible for himself it might, just might be easier than for someone in charge of a family.